Urdu Muslim Bride, Never Married in Rochester
25, Never Married, Rochester
Friendly, respectful, kind heated, independent, career oriented yet believes in prioritizing family responsibilities to have a wonderful and successful life. Did her MS in medical biotechnology from a...
To view full profile of AS8459450, you must be a registered member of Nikah.com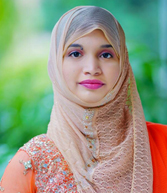 Begin the exciting journey of your partner search with us..!!
Profile Info Registration(All fields are mandatory)
Why Register on NIKAH.COM
Most trusted
Most trusted muslim matrimony service provider since 1998
Security / confidentiality
Member details are 100% secure as we maintain confidentiality of every profile
Find better match
Find your match from the city of your choice
Add more photos
More photos gives you more response and hassle free search
Get notified
Get prompt notifications and experience the ease of communication with your potential match